Philippines' Hottest dining and nightlife Capitals
Diverse selection of memorable leisure options
One of Philippines' most top surfing spot you will definitely enjoy
Chill and unwind in our pavilion. Have a pleasant moment with your family or a happy conversation with your friends and loved ones.
Enjoy swimming with our swimming pool for kids and adults, equipped with wave technology. 
Dine with your family and friends and enjoy a delicate and delicious cuisine cooked by professional chefs. The restaurant is equipped with WiFi.
Chill

and

Unwind

with your

Friends

and

Family
Enjoy exclusive benefits with the most convenient on-site facilities:
Explore the beauty of Apsaras Siargao. Cherish every moment with your family and friends and enjoy its clear, blue ocean and the waves that it creates.
Apsaras Siargao provides excellent services that truly defines their core values towards customers.
Apsaras' services are well-handled by professional personnel and is always on the level of high standards, assisting our customers to the fullest.
Set amidst half a hectare of uninterrupted wind and current between Tuason Point and General Luna area where refreshing and energizing shore excursions are of Siargao's best, this brand new surfer-hub inspired resort is a sanctuary from urban life with mesmerizing Pacific Ocean views.
Apsaras Tribe Resort is nestled in the most charming and beautiful Island of Siargao, Surigao Del Norte, Philippines located at General Luna Street, Tourism Road, overlooking the stunning Pacific Ocean. The brand new half a hectare resort features 200 meters of immaculate beachfront and the first and only resort with 100 meters of outdoor Wave Pool and 150 meters swimming pool in the island. The property places you within a delightful landscape of green and blue hues, where only ease, pleasure, and tranquility fill your senses. From Manila, it is an 80 minute to 140 minute flight to the island's Sayak Airport and a further 45 minute land transfer.
Apsaras Tribe Resort comprises of 39 Modern and Elegant guestrooms, each characterized by a fusion of contemporary combined Eastern and Western designs. All rooms feature private terrace with impressive Pacific Ocean views that can be enjoyed from cozy daybeds. All rooms are provided with room service and access to swimming pool. 
Avail our Early Bird promo and get up to 30% discount
30 Days Advanced Purchase
14 Days Advanced Purchase
We offer only the best rooms for your comfort needs.
Make yourself feel relaxed in our deluxe room with matching view of our lush green garden.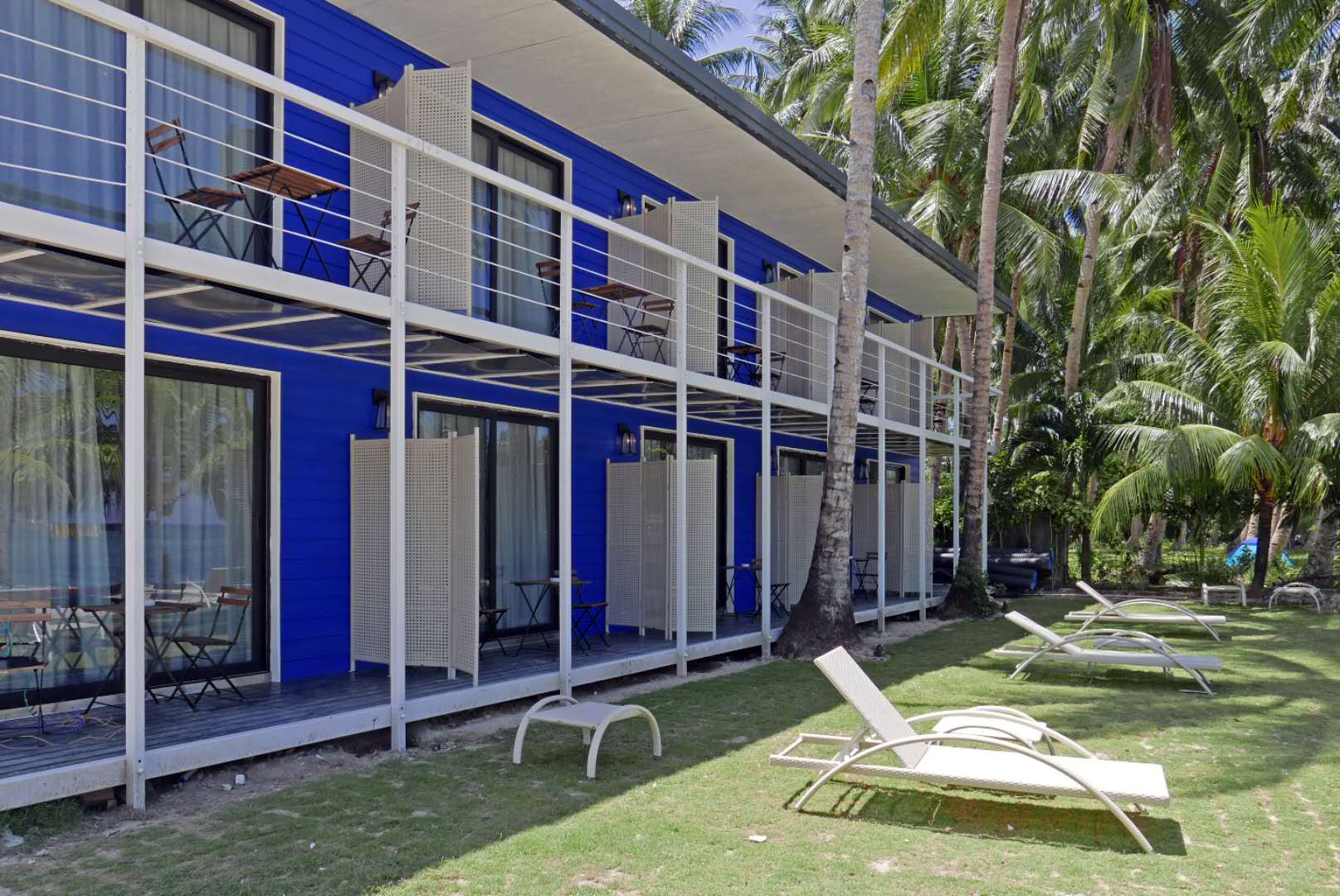 Our deluxe room with a nice pool view will surely make you feel excited to swim. 
An elegant view of the ocean will greet you with peace, together with its clear, blue body of water and cool waves.
A collection of joyful moments, smiles, triumphs, facilities and amenities